Global Change in the Context of Education for Sustainable Development – Lesson Models and Educational Offers for (prospective) Teachers aiming at Raising Awareness for Societal and Spatial Transformation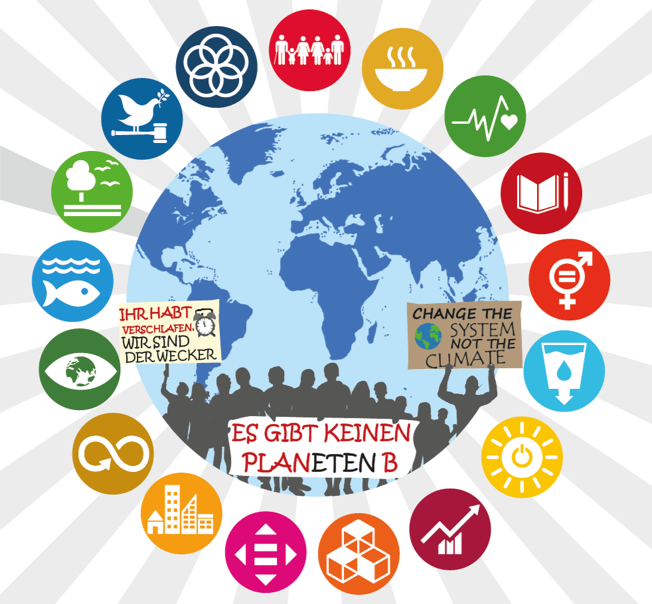 Abstract
The goal of the state initiative is to develop educational materials as well as training offers for raising awareness for a societal and spatial transformation in the context of global change. For this, linking all three phases of teacher education is paramount.
Project description
Lower Saxony's state initiative for implementing the Curriculum Framework "Education for Sustainable Development" pursues the goal to link all three phases of teacher education. It derives its theoretical framework from the concept of "Global Change". Competence-oriented lesson models will be developed with regard to raising awareness for societal transformation by using reflexive teaching methods eventually leading to sustainable spatial development (spatial transformation). However, not only content-related issues and methodological aspects are paramount. Through the cooperation with schools, teachers' training colleges, NGOs and other partners the initiative facilitates learning from another as well as learning together.
The perspective of teenagers on SDGs has so far been a desideratum in (geographic) didactic research. For the purpose of closing this gap, the subproject "Teaching Sustainable Development Goals (SDGs) with digital media" was carried out from September to December 2018.
In this special project, the perspective of young people on the SDGs were surveyed. For this, videos were shot and materials developed to convey the SDGs.
In one of the subprojects, about 200 participating pupils from grades 9-12 at grammar and comprehensive schools in Lower Saxony, Mecklenburg-Western Pomerania and Rhineland-Palatinate created short videos in groups in which they presented an SDG from their perspective. The participants were given the brochure "World Wonders! Change instead of Growth" ("Weltwunder! Wandel statt Wachstum") of the VEN (2016) as an orientation. In it, the SDGs are briefly characterised and concrete solutions are presented respectively pioneers of change are introduced.
At the beginning of this subproject, a quantitative preliminary survey was conducted using standardised questionnaires.
In several seminars, students at Leibniz University Hanover also produced videos as well as other materials that can be used for teaching purposes.
Co-operation Partners:
Ministry of Education and the Arts of Lower Saxony
Academy of spatial research and regional planning (ARL)
Research centre "TRUST – Transdisciplinary Rural and Urban Spatial Transformation"
Leibniz School of Education, Leibniz Universität Hanover (uniplus)
Geography Department Hannover II for Secondary School teaching post
Schools in Hanover and the region of Hanover
Verband Entwicklungspolitik Niedersachsen (VEN) e.V., Hanover
3WF Hannover – Forum für eine andere Welt e.V.
ELIMU – Bildung in Ostafrika e.V.
Films for the Earth, Winterthur/Switzerland